Author Name: Dara Horn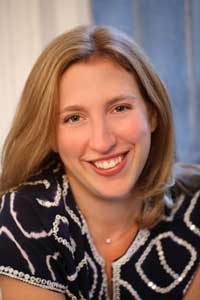 OBOJC Book Title: All Other Nights
Have you published another book since your OBOJC book? If so, what is the title? Can you briefly describe the book?  If you have another book due out soon, please tell us about that one and the estimated publication date.
My fourth novel, A Guide for the Perplexed, was published in 2013. It's about a software developer who creates an app that records everything we do– and then the story spirals back to the discovery of the Cairo Genizah, a massive depository of over 100,000 Hebrew manuscripts in a 1000-year-old Cairo synagogue. It's a kidnapping-plot thriller, and also an exploration of what we remember and why.
What book(s) are you reading now that you would like to recommend to our community?

I really liked The Liar's Gospel by Naomi Alderman, which retells the story of Jesus from an entirely Jewish point of view, and thereby ends up being a brilliant and beautifully written work about the Jewish revolt against Rome, the destruction of the Temple, and the meaning of faith. It also has many amazing scenes that teach readers what Temple rituals were really like, written with deep knowledge of Jewish sources and also great sensitivity to the religious experience of our ancestors. It came out a few years ago.
Please share your memories about OBOJC and what the experience meant to you.
I was overwhelmed by the enormous crowds at the opening event (500 people? To talk about a Jewish book???), the extreme professionalism of everyone associated with the program, and the extraordinarily high caliber of questions about the book that I fielded from OBOJC readers. It was amazing and incredibly moving to see how profoundly this community was engaged with literature.
Please attach a favorite recipe (or the name of a favorite dish) and tell us why it is meaningful to you.
Noodle Kugel is the only recipe I ever inherited from grandparents. It bears all the marks of mid-20th-century American life (my grandparents were all born here) and is probably one of the only things from that era that anyone in my house would eat. My four children love it.
Ingredients:
Wide egg noodles
3 eggs
1 stick pareve margarine
1/2 cup sugar
2 grated apples
1/2 cup raisins
2 tsp vanilla
pinch salt
cinnamon
sliced canned peaches
Directions:
Preheat oven to 350. Grate apples. Grease a large pyrex dish with margarine.
Cook and drain noodles.
Melt margarine in the bottom of the same pot.
Put in raisins, sugar, vanilla and salt.
Beat the eggs and blend them in once the other ingredients are dissolved (you do not want to end up with scrambled eggs).
Put noodles back in and stir to integrate. Mix in large quantities of cinnamon.
Pour mixture into pyrex dish. Drain peaches and distribute on top.
Cover with foil and bake for 45 minutes.