When:
February 14, 2023 @ 3:00 pm – 4:00 pm
2023-02-14T15:00:00-05:00
2023-02-14T16:00:00-05:00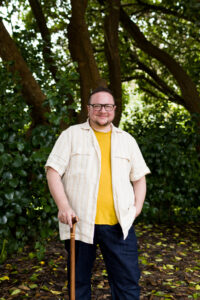 Description: In this session for Philadelphia area clergy, we will use look at the writing of contemporary disabled activists like Mia Mingus and Leah Lakshmi Piepezna-Samarsinha on the topic of disability access. We will then use this lens to read a passage from the Talmud and uncover a Jewish spirituality of accessibility. Finally, we will begin to apply this learning to our own communities.
Elliot Kukla is an author, rabbi, and activist. He is currently on the faculty at SVARA: a traditionally radical yeshiva, where he is also the founder and director of the Communal Loss and Adaptation Project (CLAP). From 2008–2021, he was a rabbi at the Bay Area Jewish Healing Center, where he offered spiritual care to those who were grieving, ill or dying. Elliot's essays on disability have been featured numerous times in The New York Times Opinion pages. He can be found at www.elliotkukla.com.
The link to register will be sent directly to clergy; contact Gabrielle with questions or to register.
Location: Zoom; please register to receive the link.
Date and Time: Tuesday, February 14, 2023, from 3:00pm to 4:00pm
Cost:  Free
For more information and to register: contact Gabrielle Kaplan-Mayer
Pre-registration is required. Please register all people who are attending this program. 
Accommodations: Thanks to a generous grant from the Jewish Federation of Greater Philadelphia, we are able to provide accommodations for any child or family member with a disability to attend jkidphilly events. If you need an accommodation such as an ASL interpreter, a sensory toolbox, or even behavior support for your child, or if you have questions about the accessibility of any program or venue, please note so on our form or contact us. In most cases, our staff will need two weeks' notice to provide accommodations, but we will do our best to meet your needs on any timeframe.