By Gabrielle Kaplan-Mayer, Director, Whole Community Inclusion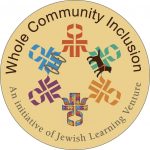 Spring is here and Passover is on its way. For those of us who are Jewish educators, we are busy thinking of fun and creative ways to bring the Exodus story to life for our students and to review the order of the Seder, the 4 Questions and other important seder rituals. For parents, we may be making seder plans and shopping lists, looking over family recipes or browsing the web for new Passover cuisine inspiration.
For families who have children with special needs, the Jewish holidays can be challenging and isolating. The change in routine and food that comes with Pesah can be disruptive for many children who rely on routine. Sitting at and attending a seder can also be a challenge for children with attention and impulse issues and may prevent children and their parents from fully experiencing the holiday.
Good news: Next Tuesday, March 24th, we will share a Whole Community Inclusion webinar focusing on tools and resources that can help all children experience Passover! Rabbi Michelle Greenfield, an experienced educator who has worked with children and teens of all abilities in a variety of settings, will share ideas that parents, educators and clergy can use and adapt.
Rabbi Michelle and I will share the ways that with some preparation, creativity and thoughtful planning for our children–including thinking about the strengths they bring to our holidays–all families can enjoy the Jewish holidays together.
Spread the word–please forward this to families you know who may appreciate this webinar.
March 24th, 2015, Noon–1pm. Email me if you would like the registration code.