Members of our Family Engagement staff are attending the National PJ Library Conference this week in Baltimore. There they will learn about successes and challenges and benefit from networking with hundreds of other PJ Library professionals. In addition, our staff will, as it does every year, have the opportunity to showcase the amazing work of jkidphilly and to highlight our learning from our years of integrating PJ Library into our engagement work.
jkidphilly has been selected to pilot a a new national initiative in the Philadelphia community, PJ Goes to School 2, which reaches out to supplementary schools grades K-2 to see how PJ Library books can be utilized in the schools, and how that learning can connect the home and the school.  The schools participating this year are Adath Israel, Beth Am Israel, Congregation Beth El-Ner Tamid, Makom Community, Mishkan Sholom, and Temple Sholom of Broomall, 
There are four books that are part of the program and I have been visiting each school to see how classrooms benefit from the stories.  In my travels I visited a school that read A Hen for Izzy Pippik and then made a lost and found box to show the value of hashavat aveida, returning lost objects.  In that school a parent shared that after the activity, her child related how important returning lost objects can be.
In another school children were divided into small groups and looked at pictures of a neighborhood undergoing change.  The "before and after" photos reflected the changes seen in Pearl Moscowitz's Last Stand.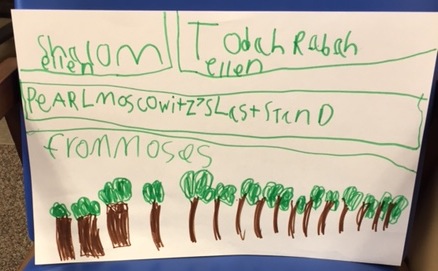 A class at a third school read Snow in Jerusalem and is now collecting money and pet toys to give to a cat shelter.  The children in that school were so appreciative of the new books that they made posters to say Todah Rabah – Thank you very much.  These books are all part of the PJ Library and always have suggestions for parents on the fly leaf.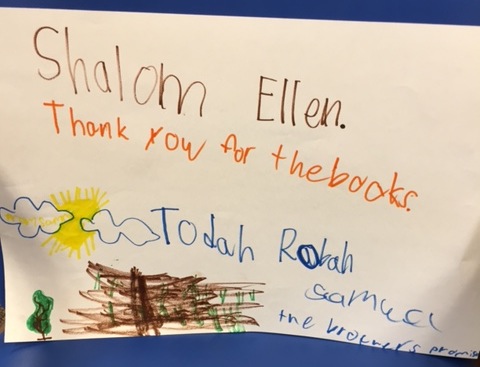 How are you using PJ Library books to learn?  If you have an idea please share with Ellen Walters or call 215.320.0366.