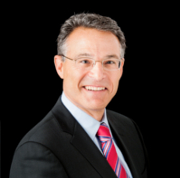 We are thrilled to welcome Board President Michael S. Paul to Jewish Learning Venture! Learn more about Michael's vision for the agency, as well as the experience he brings to this position. Mazal Tov, Michael!
"My vision for my Presidency is to enhance our position in the Philadelphia community, for Jewish Learning Venture to be valued as the 'go to' for any issue pertaining to Jewish Education, and to put us on the path to be a sustainable institution with support from multiple major funders. With the talent of both the lay leadership and professionals, we will be able to accomplish our goals."
Michael is a principal in RubinGoldman and Associates, a wealth management firm located in Bala Cynwyd.
Michael brings a myriad of strengths, education, and experience to his clients and provides both unparalleled counsel and a wide portfolio of financial vehicles. Michael's knowledge of the multi-dimensions of clients' financial affairs, including estate and business planning derives from over twenty-five years of providing advice and counsel to a select group of family-owned businesses, public and private companies and high net worth individuals. He provides clarity and options on a wide variety of estate planning, tax, business and succession planning issues and executive compensation. Michael can also enable companies to consider valued choices in the arena of executive benefits including, 401k, life insurance, etc. His clients often comment that Michael's greatest strength is his ability to simply listen to his client and truly understand their wants, needs and dreams before making suggestions on potential solutions. He earned a LL.M. Degree ("Master of Laws") in Taxation from Villanova University, his Juris Doctor Degree from Widener University School of Law, and he completed his undergraduate work in accounting at The Pennsylvania State University.
Michael and his family are long-time members of Temple Sinai in Dresher, where he has served as a board member and Vice President of Fundraising and is currently serving as chair of their Endowment. In addition, he is a Past President of the Upper Dublin Lodge of B'nai B'rith and a board member of the Jewish Federation of Greater Philadelphia's Endowment Corporation.
Michael and his wife Susan, along with their children Jonathan and Katie, reside in Dresher.