By Gabrielle Kaplan-Mayer, Director, Whole Community Inclusion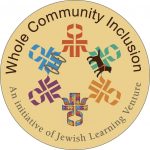 February is the shortest month, but for Jewish Learning Venture's Whole Community Inclusion (WCI) initiative, it has been bursting with Jewish Disability Awareness Month (JDAM) activities to make our Jewish communities more inclusive of people of all abilities. Some highlights include:
On February 12th, Jewish Special Needs Consortium of Greater Philadelphia hosted a breakfast for rabbis to talk about their role in leading congregations to greater awareness of the needs of congregants with disabilities and how to create a more inclusive culture.
Yesterday, we hosted a breakfast conversation for synagogue Executive Directors and Administrators. We are most grateful to Grace Gershkoff of Beth Am Israel, Karen Kantor of Old York Road Temple-Beth Am, and Hilary Leboff of Ohev Shalom of Bucks County for speaking on a panel about the impact of inclusion initiatives on their buildings, membership and communication issues, and their budget. They shared creative and inexpensive ways that synagogue communities can increase inclusion and all agreed, "We can't afford NOT to be inclusive."
On the evening of February 19th, we hosted an interactive session with inclusion committee members, other synagogue professionals and our amazing teens from the Reta Emerson Fellowship/Teen Assistant Program. We examined together where their congregations are succeeding at providing supports, and many agreed that more disability awareness is needed on a congregational level–from school students to adults–about special transportation and accommodations.
Speaking of which—there is such amazing art for the JDAM Visual Expressive Art Gallery that has been shared with us by a number of congregations including Adath Israel, Beth Am Israel, Mishkan Shalom, and Temple Judea –illustrating children's ideas about what inclusion of people of all abilities looks like. Get inspired! The art will be online for another month, and you can submit your piece anytime during March.
Jewish Learning Venture is grateful for our WCI partners at the NMAJH and JCHAI who helped us create the Museum's first sensory-friendly access event. On a freezing cold Presidents' Day morning, families came out and enjoyed the Museum's exhibit with a specially-designed tour and shared art activities in a quiet space. More events like this one to come!
I'm looking forward to speaking about inclusion at Temple Sholom in Broomall tonight. I always emphasize that JDAM is a way to focus on inclusion–but we know that this work is 365-day per year effort. Any time your congregation would like a speaker, a disability awareness seminar, or training for your teachers, let us know — we are here to provide that support.
————————————————————————————————————————
Be sure to check out our other JDAM blog posts: